By the time I turn forty I'll have my look all figured out.
It's what happens when a woman turns that age.
All of my mom's friends had it figured out by forty. Turn forty and you're a grown up at last with a real grown up look.
These were the thoughts of my twenty something self as I pondered my many incarnations.
The day before seventh grade I walked through school in a Flashdance one shouldered sweat shirt, leopard print zip jeans and flourescent pink jellies, while wearing fish bait earrings (rubbery, not real) dangling near my shoulders. I ran into a teacher who said, "Oh my, Miss Martha! Haven't you changed this summer!" She was over forty-ish and her look hadn't changed at all in those short sweet months.
In the tenth grade I went mod accessorizing my Catholic school uniform with illegally pointy toed black flats, black tights, and a black second-hand men's cardigan. My hair was worn in a tight clean bob, my eye lids liquid painted, carefully winging upward. After school my mod boyfriend would pick me up on the back of his mod scooter and we'd make plans for Fishbone concerts that I would lie to my mother about to be able to go.
Early nineties? The beginning of grunge and I cut my hair Amber Valetta pixie short, just like hers on that one cover of Vogue. I did wear plaid, but styled myself more eclectic/fashion forward; a pea coat embroidered with flowers (early Free People I wish I'd kept), Minnie Mouse minnie skirts, big fat clogs, Big Star jeans and lots of Betsey Johnson.
I always took risks; tattooing my left middle finger because I thought it would be cute (early twenties), pierced my nose so there'd always be a bit of sparkle emanating from my face (mid twenties), and more than once changed my boring blonde locks to shades from platinum white to sleek dark brown (over and over again).
As I drove the kids to school on Tuesday I took a good look in the visor mirror. No makeup, except for the Mac Omega eyebrows that are brushed on daily. No colorful cheeks, no lined eyes, too grown out highlights, no sparkle whatsoever.
I looked down at my outfit; Be Present yoga pants (okay fine, they are the ones with the lotus on the back, but still) and a gray t-shirt. On my feet? Havainas. God forsaken Havainas; not even a decent pair of shoes.
While looking in that mirror I wondered. A pierced nose? Double pierced ears? Maybe committing to liquid liner? Maybe committing to a daily red lip.
I have an appointment to get my hair colored next week and I'm taking a break from boring buttered blonde. The upkeep on red might be too much. Too dark isn't right for my complexion. Pink? Ombre? The hair world is my oyster.
Mom clothes? They are a job requirement, but I'm done buying yoga pants for a while. Instead, I am going to focus on shoes beginning with the Swedish Hasbeens that appeared on my doorstep just yesterday.
I was wrong in believing that by forty I'd have grown stylishly wise, settling on my appropriate grown up look. Its a new world these 2010's, so maybe the old rules don't apply.
Besides, I think it's true what they say about forty being the new thirty.
If that's the case, I have almost ten more years of creative expression before I turn fifty, a very grown up age. Let's hope fifty will not be the new forty or I'll be one very confused lady.
How about you? Are you happy with your look or do you mix it up? Do you agree that change is good or is consistency a better approach?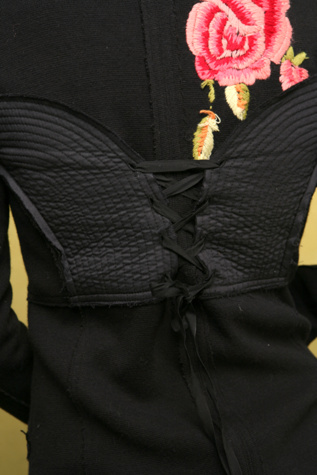 XOM