As happened last month, I didn't manage to compile a new list of goodies until the first day of the next one.
Here are a few recent finds and some older goodies that are pretty enough to be posted!
1. The Cambridge Satchel Company
These bags made in England come in delicious colors and sizes and can be carried by just about anyone; boys and girls.
I favor The Metallic and The Flouro, but one could never go wrong with The Classic. What's really fun is the monogrammed embossing that can only be done if purchased from the website in the U.K.
I say, "Spend the extra money on shipping and get a bag that's just for you!"
2. Swedish Hasbeens and Ugglebo.
I've been a fan of clogs since my first pair in the seventies. In the Fall, my girls fell in love with a pair of bright pink patent leather Dansko's. The price tag was steep, but the sight of them marching around was enough for me to hand over the card and relive my own childhood clunking. I wonder if my kids will remember their first clogs, the way I remember mine.
I'm thinking a pair for me should be added to the Spring shopping wish list. Here are a few ideas.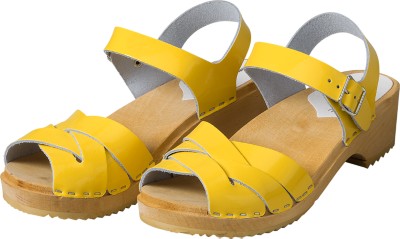 3. Karen Walker is a designer from New Zealand who makes a really fantastic women's collection. I love good fabric and great prints and could see myself in just about any of her day dresses. I'm currently coveting her houndstooth, which is bigger and zig-zaggier than an old school men's traditional one.
Her sunglasses are fantastic, too; whimsical and weird. Love her stuff!
About twice a year I get an urge to sew. This results in a visit to one of my favorite fabric stores where I touch everything and load up while letting my imagination fly free. The problem is that there is never enough time to make all that I dream, not to mention my sewing machine tends to go on strike three-fourths of the way through any given project. Aunt Nor's unfinished Thanksgiving apron is proof (she still wore it, since it was made with love).
Even so, I continue to collect and fold my neatly stacked finds in the sewing room for when the bell tolls.
4. Two of my favorites fabric designers are  Anna Maria Horner and Amy Butler. Technically these are quilting fabrics, but they really could be made into just about anything ready to wear.
I couldn't wrap up a goodies list without something running gear related. A like minded blogger over at Poppy's Style did a great review of these Adidas tights. I've been thinking about them ever since.
A part of me loves them, possibly because they are awfully similar to a pair of ski pants I wore in 1989. The ski pants were more colorful, like graffiti artists had their way with me, but these have the same flair. As Cameron Diaz (@ about 49 seconds) said at the Oscars, sometimes you've got to, "Take a chance, everybody!"
5. Adidas TECHFIT 3/4 Zebra Tight