In an effort to lighten things up, I've decided that it might be a good idea to update my "Gear Goodies" post once a month.  Let's be honest, if I continued to write about cancer day after day, I'd be living in Debbie Downerland!
Here are my "Gear Goodies" for December!
The owner of a company  called, "Bic Bands," also has a WordPress blog called, A Mom On the Run.  A few other bloggers had mentioned Bic Bands; cute headbands that don't fall off or leave a running gal with a massive headache. I checked out the website and placed an order for two. My skinny gold sparkle and skinny zebra print arrived within a few days, and I wore one during yesterday's six miler. I am happy to report that my hair stayed back and I didn't have to hit the Advil due to brain squeeze. Love!
A few weeks ago I tried Swiftwick socks. I bought them at Raleigh Running Outifitters based on a review by one of the female employees. There's nothing fancy about Swiftwick. They are low, white, with the size (M) in black on the foot. I didn't have great expectations (I fall for gimmicks too easily and these are so plain), but wow, they are terrific! The toe is a bit cushioned and the sock is made of a dry weave fabric, but they don't feel synthetic. They also washed great. As a side note, I was excited to see that Runningskirts.com's adorable heart compression knee socks are made by Swiftwick. I'm hoping those arrive at my front door soon.
I mentioned in last weekends' post that I ran into Lululemon to check out the new stock in Paris Pink. I have been waiting for LLL to release some pink gear; everything has been purple, purple, purple for far too long. The Paris Pink color is gorgeous and bright. Unfortunately, I hated everything  on me. The Turn Around Long Sleeve showed every lump and bump and the pace setter skirt was way too short. Since I was there, I tried on a couple other pieces that I loved! The Yoga to City Jacket (I tried black) is amazing with a ruffle placed at just the right point to hide what my sister lovingly refers to as the, "relaxed muscle." The Essential and Run for it Jackets, also in black, made my must-have list. I told Brian I wanted an iPhone for Christmas, but maybe a gift card to Lulu would be better. Decisions, decisions!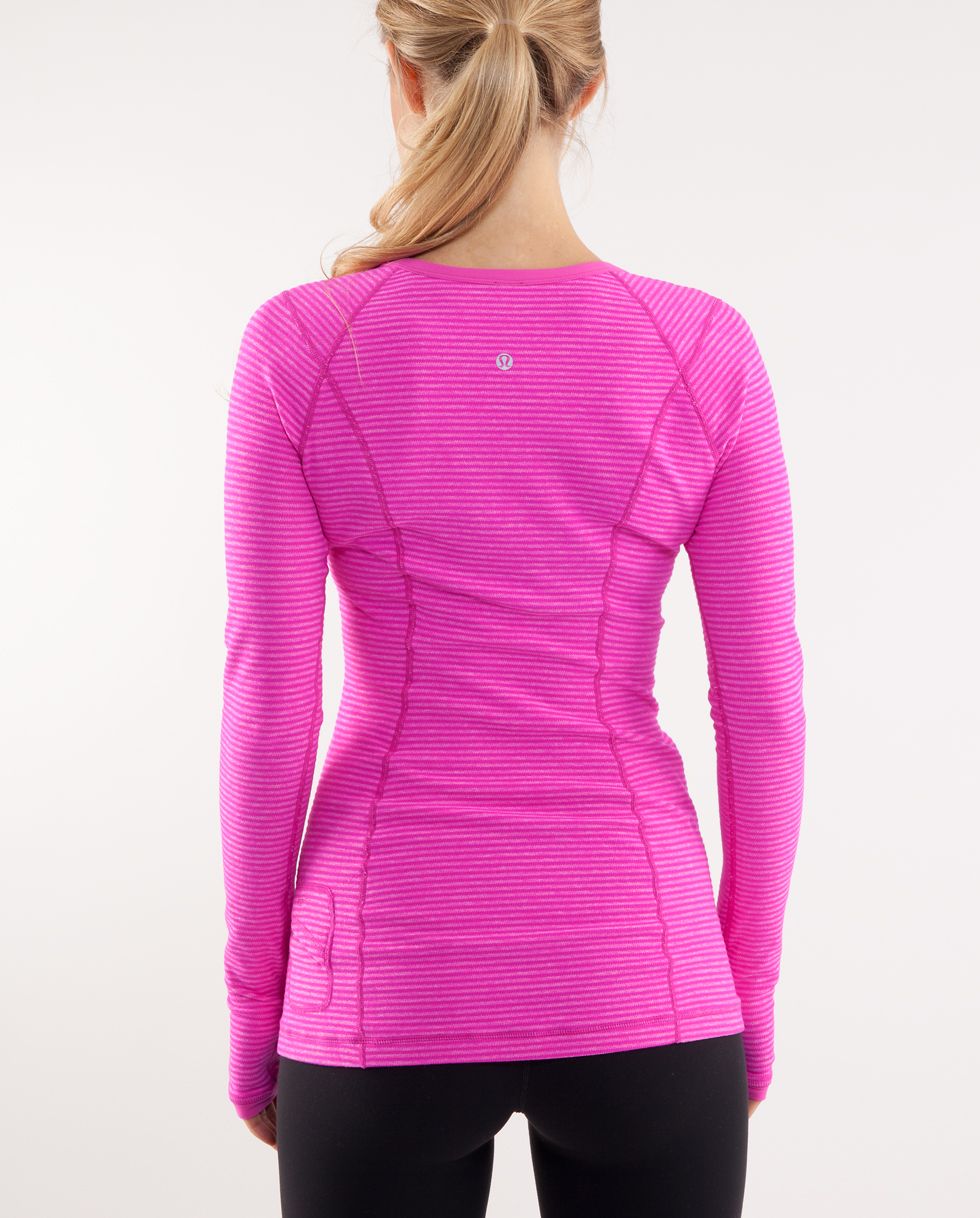 I am always in the market for good running tops, so last week I tried Under Armour's "Charged Cotton" tees. Under Armour's fit is funny and I can't rely on being the same size in every garment. The charged cotton fabric feels heavy and soft (the hang tag says it dries five times faster), and the medium was better than the large. I usually prefer a V or U-neck, because I think they are more flattering on me, but in this case the round neck was better. I didn't end up buying it, but I might if it gets marked down.
I also tried the Under Armour Escape Lightweight 1/4 zip in white. In this, I liked the large, since it's meant to be a layering piece. As the title describes, it is lightweight. I'm just not in the market for thin gear right now. It's still pretty warm in Raleigh, but I know I'm going to be one cold potato in about a month.
I'm still on the fence about whether or not to try the CW-X Pro Compression pants. I have done lots of research about wearing this kind of gear for extra long runs (and also for recovery) and the consensus is that they work. I think I'm going to wait a little longer, until my mileage gets up to 14/15 to see if what I have is performing well enough.
Aside from running gear, I probably should mention some of the Mommyland clothes that have made an appearance lately, since I can't live in running gear all the time (though sometimes I wish could).
I discovered a designer named Lesley Evers, out of Berkeley, California. Her day dresses and tunic are beyond cute. They are functional, well made, and thoughtfully designed. I called their design office to place an order and was met with the best customer service I've ever received (hand to God). Melissa, who I believe is Lesley's right hand person, walked through the work room trying to find the right size dress for me. She even sent me a stack of extra pieces in different size to try for fit. Who does that?  I ended up keeping two tunics that will get lots of wear in the Spring, and a dress that I wore to the girl's birthday party.
Another designer,Kayce Hughes, had a trunk show a few months back at a shop I love in North Hills; The Paper Buzz. Kayce used to work for Ralph Lauren and makes really classic, lovely pieces for women and children. I wore her Western denim shirt dress to meet my grandparents at Thanksgiving. I was planning on wearing my Frye (tall) boots, but since everyone took their shoes off at Aunt Nor's front door, I decided against it.  I probably could have gone bare-legged, but I knew I'd be on the floor with the kids, etc. In the end, I paired it with my Banana Republic skinny jeans in black, which worked out fine. The dress was super comfortable, I felt great (appropriately attired), and am looking forward to wearing it again; next time with flats and the sleeves rolled (when the season permits).
Finally, my
Garmin
 arrived! I chose the 210 over the 405, mostly because I'm old school and prefer buttons over a touch bezel. It's charged and ready to run, but today is a rest day, so until tomorrow….
Tell me about your recent finds and gear goodies!